By Jean L. S. Patrick Illustrated by Jeni Reeves; First Avenue Editions ™; Illustrated Edition; 2000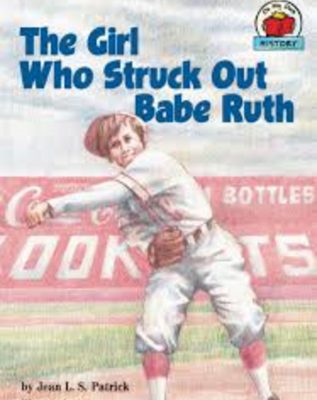 "Just go out there and pitch just like you pitch to anyone else"
Those are the words Jackie Mitchell's father, Dr. Joesph Mitchell, told her before the would go on to strike out both the "Sultan of Swat" Babe Ruth and another famous home run hitter, Lou Gehrig. She did so at the age of 17 while playing for the Minor League team, the Chattanooga Lookouts.
"The Girl Who Struck Out Babe Ruth" tells the story of Jackie's most shining moment, beginning on March 28, 1931 when she signed her contract with the Lookouts. It goes through the days before she hoped she would be called on to pitch
against the New York Yankees while they were in town for an exhibition game before their Major League season. Jackie studied Babe and Lou during batting practice, figuring out exactly which pitches she'd throw to them if she got
the chance.
Jackie was called in just in time, while the Yankees were up 1-0 and Babe Ruth was coming to the plate. This book tells the most accurate account of his at bat, going through every pitch of the at bat, which pitches Jackie threw and
why. Some books that describe the at bat have said that the first pitch she threw went over the plate for a strike, but according to reports from the game, which was played on April 2, 1931, her first pitch was actually a ball high over the plate.
This book doesn't shy away from telling the reader just what Mr. Ruth thought of batting against a woman pitcher, and includes his famous quote that women were "too delicate" to play baseball every day. Jackie most definitely proved him wrong, and any young girls who read this book should go out and prove him wrong too!