BALL PARK MYSTERIES #17: TRIPLE PLAY TWINS 
By David A. Kelly; Illustrated by Mark Meyers; Random House Books for Young Readers; 2021
David A Kelly's latest Ballpark Mystery The Triple Play Twins is an exciting adventure featuring cousins Mike and Kate. Kate's mom is in Minneapolis to write an article about the Twin's star infielders Marco and Pedro who happen to be twins!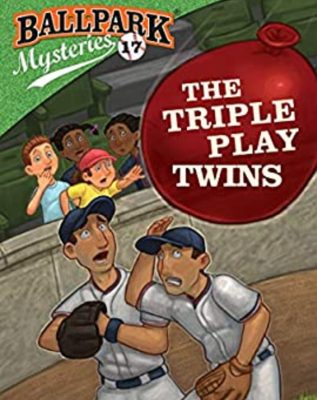 She brings Mike and Kate along to meet them and things quickly get interesting. They are drawn into an odd situation when they witness the twin Twins getting hit by a water balloon! Other suspicious incidents lead the cousins to suspect that someone is trying to get at Marco and Pedro and ruin the Twins' chances of making the playoffs. Mike and Kate set out to find out who it is!
Young readers will enjoy the plot twists involving the twin Twins, and anyone who has known identical twins will already have some background knowledge supporting their reading. David Kelly includes wonderful details about the team's history, the Twins' mascot, and their unique concessions! His writing leads his young readers to discover what is happening and who is behind the mischief with clever clues and rich vocabulary. He is careful to teach aspects of the game of baseball adding to any young reader's knowledge of this beautiful game. So, catch this new ballpark mystery as we anticipate a full season of major league baseball!