This entry in the "Stadium Seat Spiels" series highlights an adult's reflection on his childhood visit to Comiskey Park. It was written by
Anthony Zoubek, an English teacher from Illinois. For maximum impact, Zoubek suggests that this short memoir be read aloud, enthusiastically, in the spirit of humorist Jean Shepherd, a booming-voiced narrator of the classic film "A Christmas Story" (Coincidentally, Shepherd was also a Chicago White Sox fan)…
The old man sat to my father's left as we rode on the Knights of Columbus charter bus. Every seat was taken; every shirt and ballcap bore a White Sox insignia. At nine-years-old, with a burgeoning interest in baseball, this was to be my first and only trip to Chicago's Comiskey Park. The stadium, once revered as "The Baseball Palace of the World," was in its final month of operation. With extra tickets to a Saturday night game in September, our local Knights chapter extended us an invitation. The guest list was "guys only".
I asked the elderly gentleman what I should expect once we reached the ballpark. His response, equal parts stodgy and slurry, was attenuated by a half-empty beverage can, which he waved haphazardly for emphasis.
"Yeah, now that they're buildin' a NEW STADIUM, the old one is… sort of a DUMP…" He paused to swig, though not before he spilt. "But YOU KNOW WHAT, kid? It's OUR DUMP!"
A lifelong White Sox fan (and clearly a wordsmith), the old man's brutal honesty was not assessing Comiskey Park so much as illustrating the liquid courage one might find in an Old Style can. (Sorry Cubs fans. The Sox held stock in that particular lager long before it became your stadium's staple.) Before leaving the western suburbs and heading to the 35th Street and Shields, the Knights, anticipating the typically abysmal Chicago traffic, stowed several coolers of cheap beer for onboard consumption. A religious organization accustomed to singing church hymns, the Knights' supply of "social lubricant" incited monk-like chants of dirty limericks… many of which I would repeat at length on my Catholic school's playground the following Monday.
I was filled with anticipation. To that point in my life, Chicago's southside was foreign terrain. I was a stranger in a strange land, bearing witness to Comiskey on its last legs. The summer of 1990 was the ballpark's victory lap around history's proverbial warning track.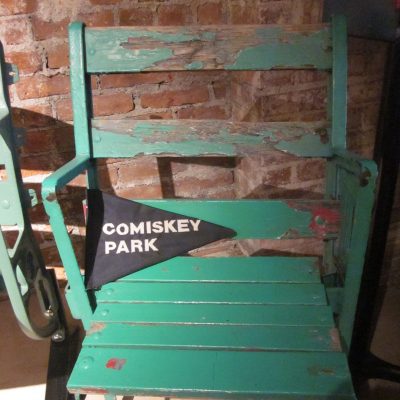 Exiting the bus at one of Comiskey's front gates, I was immediately taken by the grandeur. In a sea of Bridgeport bungalows and two-flats, someone had dropped a colosseum. In 1910, the legendary architect Zachary Taylor Davis purposefully designed Comiskey's dramatic archways to evoke this effect; hence how Charles Comiskey earned his nickname, "The Old Roman." (Of course, players on the 1919 "Black Sox" had a litany of creative epithets for their penny-pitching owner.)
Eighty years later, rehabbing Comiskey would have cost more money than building a new one. Despite the Palace's engulfing appearance, its façade was dwarfed by "Comiskey Park II," under construction on the flipside 35th Street. Two parks – one old, one new, the past meeting the present, separated by two-lane blacktop – is the baseball-equivalent of a double-rainbow. Literally, the White Sox soon-to-be home loomed large on the horizon.
On the bus for well over an hour, I sipped sodas while my elders sank suds. This called for an immediate pregame bathroom visit once we were inside the park. There were more trash bag-covered "receptacles" than working water-closets.
That season, Comiskey Park's impending date with a bulldozer left no rationale for routine maintenance. To this point in my baseball fandom, I had attended only Cubs games. Once you've witnessed Wrigley's lack of facilities (and the infamous "troths"), Comiskey's decrepit bathrooms, even with a décor of Hefty Cinch Sacks, were an improvement by comparison.
Before treading further, I must explain my pre-Comiskey baseball experiences at Wrigley Field. (You can't talk about White Sox Nation without recognizing its unique disdain for the Cubs. It's an indelible component of our ethos.) A year earlier, one of my uncles – the king of all Cubs fans – purchased a Wrigley Field night game ticket package. I attended many of those games with him. To wit: Not once did I ever see the Cubs win. Admittedly, by going to those games, I learned the lost art of pen-and-paper scorekeeping. But would I have remained a fan had my exposure been limited to Chicago's Loveable Losers? I'm uncertain. Kids want to feel like winners. Losing sucks, no matter how many ice cream bars are purchased to quell your sobbing. After the futility of so many final outs, I wanted the thrill of victory, not the agony of defeat… although ice cream did help minimize the sting.
My dad claims not to favor one Chicago team over the other. (I maintain that "rooting for both" is an anomaly.) But deep down, his heart leans "southside of center." When I was a kid, his stories ("when I was a little boy your age") often involved his church, which broke out a parochial school bus on summer weekends, then sought parishioners to load up for a day game at Comiskey Park. With enough passengers, they would quality for free admission. These ballpark trips were totally informal and without organized supervision. At Comiskey, you were on your own; pray that you nigh find the bus once the game was over. My dad still waxes nostalgic about those summers, riding his bike to the church parking lot alone, then holy-rolling to Comiskey on that Sox-bound school bus. (No beer coolers. Christian Brothers wine? Maybe. But I digress.) Yes, Virginia, once upon a time it was perfectly acceptable – even encouraged – for chaperone-free small-town youth to frequent a Major League Baseball park in a massive city… so long as they promised to be home before dark.
From a variety of Comiskey Park seats, my father watched White Sox games throughout the 1960s. Vicariously, I acquired substantial Sox history long before I saw the Palace in person…
I learned that Comiskey's legendary organ player, Nancy Faust, was the first to use "Na Na Hey Hey Kiss Him Goodbye" as a stadium anthem (
https://www.youtube.com/watch?v=dbIa2qaWX-I&list=PLB729BCEA1200603F). The band Steam went so far as to temporarily change their song's title; vinyl records briefly labeled it as "The White Sox Theme."
I learned about McCuddy's Tavern, the fabled bar across from Comiskey, which Babe Ruth called one of his favorite haunts.
I learned about Billy Pierce, whose windup began with yoga-like backwards stretch, such that Pierce's throwing hand supposedly scraped the mound.
I learned that, before he hocked Budweiser and howled "Take Me Out To the Ballgame" on the north side of town, Harry Carray preached the virtues of ice cold Falstaff and launched his unlikely singing career in Comiskey's broadcasting booth (https://www.youtube.com/watch?v=jB4Ta22BWA8&list=PLB729BCEA1200603F&index=2). His partner, the ornery, oft-unstable Jimmy Piersall, donned "OUTPATIENT" t-shirts and made fun of the players' wives.
I learned about Sox legend Dick "Crash" Allen, so surnamed because he wore a batting helmet while playing defense. Allen famously juggled baseballs while smoking cigarettes in the dugout. Once, he hit two inside-the-park homeruns in a single game. Another time, he left Comiskey a few batters before his spot in the lineup, grabbed a taco from a street vendor, sloppily ate it while running back into Comiskey Park, grabbed a bat, sprinted to home plate (his jersey freshly beef-stained), and hit a homerun – another piece of evidence in his 1972 MVP honors.
Most intriguing to the adolescent mind, I learned about Comiskey's exploding scoreboard, with its pinwheels that spun and spat fireworks. Why settle for a green block covered in numbered tiles when you see an electronic scoreboard that shoots rockets? Until my visit to Comiskey, I could only imagine what this magical device looked like. I'd never actually watched a Sox game on television. Cubs games were broadcast on WGN, a national superstation. For years, the Second Team in the Second City was subjugated to no-name UHF channels. By covering your television's bunny ears in tinfoil, maybe – just maybe- you could pick up the Sox weak signal. But even then, squinting and straining your eyes did little to help you see the game through a thicket of broadcast snow.
Holding my father's hand, walking the Comiskey concourse, my most vivid memory is still the smell. A bouquet of bratwurst, grilled onions, and sauerkraut hung so thick in the air that from several concessions stands away, you could taste the trifecta with a sniff. Of all food-to-sport duets, the pairing of baseball and frankfurters will forever be king. (Nothing tops a Vienna Beef hotdog "dragged through the garden," covered with chopped onions, lime-green relish, celery salt, a pickle spear, sport peppers, mustard and NO KETCHUP. In the Windy City, reciting the recipe, we're required to include the lone ingredient you CANNOT add under penalty of law.) Nonetheless, in Comiskey's cavernous concourse, the "dog" days of summer were "brat" not "hot". (Today, upon entering the White Sox "new" park, the fragrant medley of bratwurst, onions, and kraut, sizzling side by side by side on the same griddle, still reigns supreme.)
Dad and I ascended from the concourse to find out seats. My first glimpse of the field was awe-inspiring. Surely the depth from Comiskey's home plate to centerfield defined the concept of "a pitcher's park." The stadium's roof hovered all the way around Comiskey's crown. It came to an end at the scoreboard, which lived up to the hype. Rising high into the sky, adorned with advertisements (the biggest one for Winston Cigarettes), the scoreboard's sloped silhouette blanketed the field, much like the half-finished "Comiskey Park II" cast its shadow over "Comiskey Park I."
The Sox were victorious that night. ("It's a White Sox winner!"). For the first time in person, I witnessed a Chicago baseball team topple its opponent. I do not remember much about individual plays from the game itself, although looking at the "analog" scorecard I kept beacons brief flashes of memory. I do recall the drop of my jaw during the postgame pyrotechnics. Whomever prepped and lit the powder kegs that night set a standard by which all future fireworks everywhere
should be judged.
Seven months later, the White Sox moved across the street while a wrecking crew dismantled their Palace. The tedious surgery lasted most of that summer. A flimsy chain link fence did little to stop fans from taking souvenir bricks.
The "new" park, recently rechristened Guaranteed Rate Field, is now three decades old. I am a season ticketholder. Don't be fooled by so-called baseball purists who call it a sterile "ball-mall." Sportswriters have short memories.
When "Comiskey Park II" first opened, the Sox outdrew the Cubs' attendance for the next several years. The park's sight-lines are superb; there's not a bad seat in the house. Before it became hip to bash the place, its design was championed by television host and construction guru Bob Vila (
https://www.youtube.com/watch?v=2_DgPi56JGY). I tend to agree with Baseball Digest: "It suffers from being the last MLB ballpark to open before Camden Yards changed all the design rules… it feels like a fortress as you approach it from street level."
A fortress is not that far removed from a coliseum. Besides, as demonstrated by that elderly Knight of Columbus, hardcore Sox fans (with or without the Old Style) wear criticisms like badges of honor.
Comiskey's step-sibling may well be a "ball-mall"
But you know what?
It's OUR ball-mall.
Fun Facts about Comiskey Park:
Alternate Names: White Sox Park (1910-1912, 1962-1975)
Location: 35th St & Shields Ave, Chicago, IL
Baseball Teams: Chicago White Sox
First Game: July 1, 1910
Last Game: September 30, 1990
Building Cost: $750,000 ($20,548,421.05 in 2020)
Architect: Zachary Taylor Davis
Original Capacity: 28,000
Final Capacity: 43,951
Largest Capacity: 55,555
Smallest Capacity: 511
Notes: Owner Bill Veeck installed the first exploding scoreboard in 1960
Hosted: 3 All Star Games (1933, 1950, 1983)
4 World Series (1917, 1918 (used by Chicago Cubs), 1919 & 1959)