BRAVE IN EVERY WAY 
By Peter Golenbock Illustrated by Paul Lee; HMH Books for Young Readers; 2005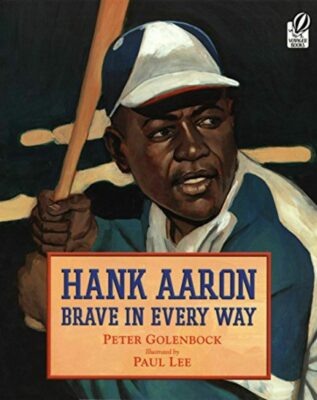 Hank Aaron-Brave in Every Way is another wonderful biography from Peter Golenbock. It is beautifully written for young readers to understand and appreciate the life of Hank Aaron, and the vivid illustrations give readers strong images to enhance their reading experience. Golenbock sheds light on the deep relationship Hank Aaron had with his father and mother. Their support and love inspired him to work hard and follow his dream of playing professional baseball. His father shows him the joy of playing ball on a grassy field and the value of working hard. His mother stressed the importance of education. She taught him to 'Set goals for yourself and don't let anyone stop you from achieving them.' Those words stayed with him throughout his career.
As a boy, Hank dreamt only of playing professional baseball. Black players were excluded from the major leagues. It wasn't until he was 13 years old that Jackie Robinson joined the Brooklyn Dodgers. All this time his father guided him to be realistic and his mother stressed working hard in school. Hank's determination and skill led him to playing professional baseball by age 20 for the Milwaukee Braves. He had realized this dream and then set a new goal of breaking Babe Ruth's homerun record. Through his playing and homerun hitting he helped continue to integrate baseball and erase the color barrier.
Golenbock's writing addresses the harsh issues and environment that surrounded Hank Aaron in a straightforward honest manner. Young readers will learn that during his run at the homerun record he was brave and used his talent to combat the hate mail and death threats he received. On April 8, 1974 with two outs and one runner on first base, facing the Los Angeles Dodgers, Hank Aaron sent a pitch over the deep left center field fence! Fans ran onto the field to congratulate him, his teammates celebrated him and waiting at home plate was his mother who wrapped her son in a tight hug that protected and celebrated his goals and dreams! This is an important book that inspires, informs, and celebrates the life of a true hero.