THE KID FROM DIAMOND STREET: The Extraordinary Story of Baseball Legend Edith Houghton
By Audrey Vernick, Illustrated by Steven Salerno; Houghton-Mifflin Harcourt; 2016
Picture Book, Juvenile Non-Fiction biography, Includes "A Note From the Author"
 Edith Houghton was the youngest of ten children born into a Philadelphia family that lived on Diamond Street in 1912. She claimed she was born with a baseball in her hand, and, indeed, baseball was central to her life. She played with siblings and neighbors and was welcomed on any team because of her excellent ability. But, in the 1900s, she didn't have many friends since not many girls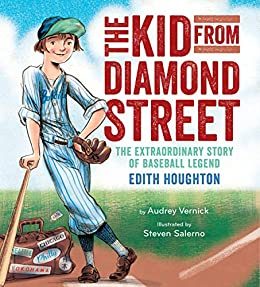 played baseball. When she found out a professional team was having tryouts, she went. At ten years old, she was the youngest player ever recruited. Her team, the Philadelphia Bobbies were an all-female team and Edith became starting shortstop which gained her the nickname, "The Kid."
The Bobbies played male teams due to a lack of female teams. They traveled across the country playing games from Philadelphia to Seattle. After the Seattle games, they boarded to ship for Japan, where they toured and played Japanese
men's teams for two months. Japan, the country and culture were new experiences and adventures for Edith, as well as for her teammates. Edith continued to play for other professional women's teams after she returned home from Japan.
Following her playing career, she became a scout for the Philadelphia Phillies. That, along with her other accomplishments gained her entry to the "Diamond Dreams" exhibit at the Baseball Hall of Fame. "The Kid" opened doors for girls
to play baseball and even try out for teams intended for older players.
Readers will gain insight to a relatively unknown baseball legend and find out how "The Kid" learns to cope with new adventures and build relationships with older teammates.
https://www.youtube.com/watch?v=cI2s8T70HLI (video, Female Baseball Scout turns 100)