THE BAT BOY AND HIS VIOLIN 
By Gavin Curtis, Illustrated by E. B. Lewis; Aladdin; 2001
Reginald loves to play his violin. His father is the manager of the Dukes, the worst team in the Negro National League in 1948 after Jackie Robinson went over to play for the white teams. Gavin Curtis' book shares the story of a boy and his father as they grow to understand and respect one another's passions. A simple scenario, but a story rich in themes, history, vocabulary and metaphors. When the Dukes need a bat boy, Reginald's father makes him the bat boy hoping to get his son outside and interested in the game. Reginald fails at this job. He messes up the bats and the players struggle even more. The chaos all disappears when his father tells him, "Why don't you relax a spell on the bench. It'll give you a chance to fiddle." Here Reginald can share his musical gift, as his playing softly fills the dugout with music. It ignites the bats of the Dukes and sends the team on a winning streak. The Dukes now have an opportunity to make a name for themselves.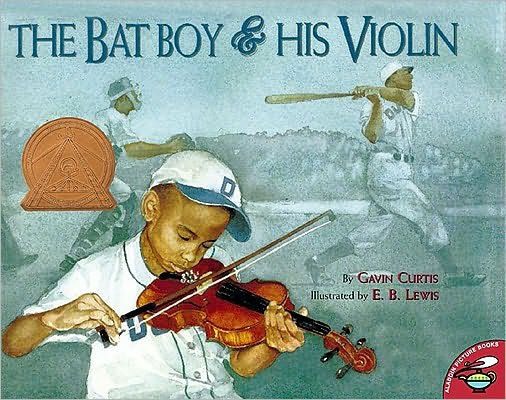 This beautiful story and E.B. Lewis' watercolor pictures capture an important time in baseball's history, but of more significance the transformations of Reginald, his father, and the team during the season. 
The Bat Boy and his Violin has so much for young readers to reflect on as they read the story, and how they can share their passions and gifts with others. This is much more than a baseball story. It touches on the loving bonds of family and teammates. It is a celebration of how sports and the arts can bring people together.