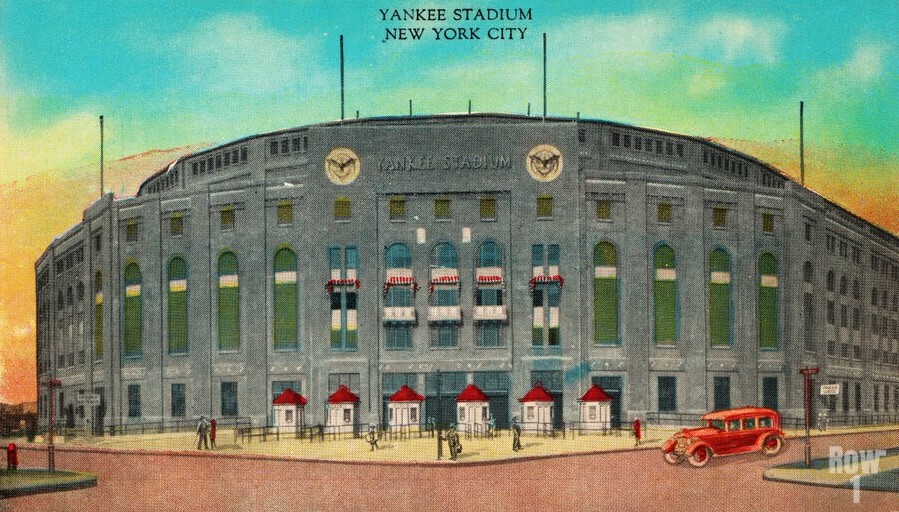 The original Yankee Stadium was a stadium located in the Bronx, New York City. It was the home ballpark of the New York Yankees, one of the city's Major League Baseball franchises, from 1923 to 2008, except for 1974-75 when the stadium was renovated. It hosted 6,581 Yankees regular season home games during its 85-year history. It was also the home of the New York Giants National Football League (NFL) team from 1956 through September 1973. The stadium's nickname, "The House That Ruth Built", is derived from Babe Ruth, the baseball superstar whose prime years coincided with the stadium's opening and the beginning of the Yankees' winning history. It has often been referred to as "The Cathedral of Baseball". *
YANKEE STADIUM FACTS #
A ball hitting the foul pole in the 1930s was in play, not a homer.
Dead center field was 490 feet from home plate hence earning the nickname of "Death Valley".
Green curtain in center is sometimes raised and lowered like a window shade to force visiting batters to face a background of white-shirted bleacher fans while allowing Yankees hitters to face a dark green background. Sometimes removed in World Series play to sell more seats.
Hosted the 1977, 1960 (II) and 1939 All-Star games.
Bleachers in right-center often called Ruthville and Gehrigville.
Warning track made of red cinders, later of red brick dust.
Underneath second base in Yankee Stadium (I) there was a 15-foot-deep brick-lined vault containing electrical, telephone, and telegraph connections for boxing events.
As originally constructed, from May 5, 1922, to April 18, 1923, three concrete decks extended from behind home plate to each corner, with a single deck in left-center and wooden bleachers around the rest of the outfield.
In the winter of 1927-1928 second and third decks were added to left-center and several rows of box seats were removed in left, extending the foul pole from 281 to 301 feet.
During the 1936 season, the winter of 1936-1937, and continuing through the 1937 season, the wooden bleachers were replaced with concrete ones. During the 1937 season second and third decks were added in right-center. The bleacher changes shortened straightaway center from 490 to 461 feet and reduced seating capacity from the 80,000s to the 70,000s.
As the outfield bench seats were gradually replaced with chair seats in the 1930s and 1940s, the seating capacity gradually dropped from over 70,000 to about 67,000.
"Bloody Angle" between bleachers and right-field foul line in 1923 season was very asymmetrical and caused crazy bounces. Eliminating this in 1924 caused the plate to be moved 13 feet and the deepest left-center corner to change from 500 to 490 feet.
Auxiliary scoreboards were built in the late 1940s, which covered up the 367 right-center sign and the 415 left-center sign.
On September 25, 1966, only 413 people, the smallest crowd in Yankee Stadium history, watched the White Sox beat the Yankees 4-1.
Minor modifications were made in the winter of 1966-1967. During this work, a new 463 sign and a 433 sign appeared in the power alleys, and the exterior was painted blue and white.
A 500 pound steel joint fell from the upper deck in April 1998 prompting the Yankees to play a home game at Shea Stadium and trade three home games with the Detroit Tigers.
Original street address was 800 Ruppert Place.
*Source Wikipedia
#Source ballparks.com
BELOW ARE SOME OF THE ARTIFACTS FROM YANKEE STADIUM IN THE MUSEUM – CLICK THE IMAGES FOR A LARGER VIEW