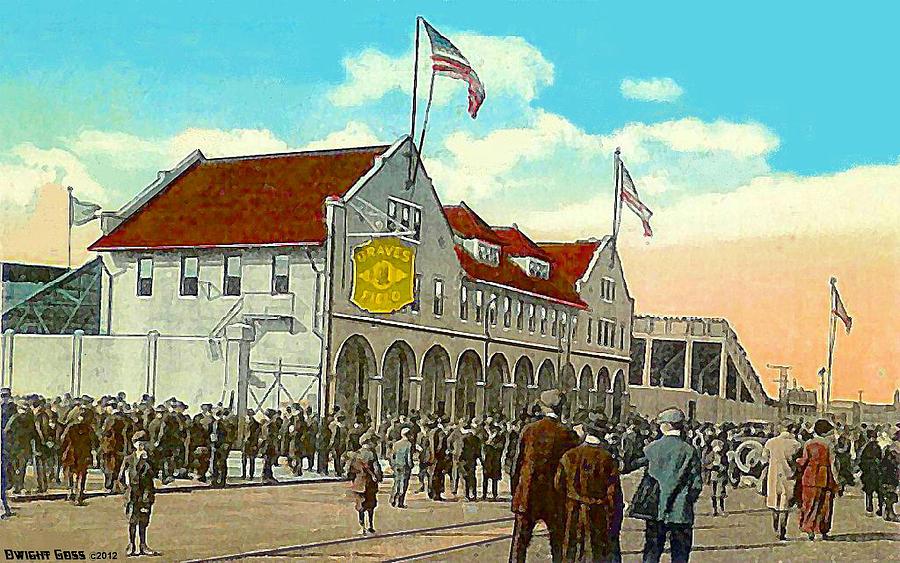 Braves Field was the last and largest of the first wave of concrete-and-steel ballparks built between 1909 and 1915. Owner James Gaffney built a wide open ballpark conducive to inside-the-park home runs. A covered single-deck grandstand seating 18,000 wrapped around the diamond from well down each foul line. Two uncovered pavilions seating 10,000 apiece occupied the areas just past the grandstand up to the foul poles. The jury box, as it was called after a sportswriter noticed during a game that only 12 spectators were sitting in the section, seated 2,000 and was located in right field. *
BRAVES FIELD FACTS #
Infield grass was transplanted from the old South End Grounds.
Originally, there was a ground-level scoreboard in left field.
Prevailing winds blew straight in from center field, preventing many home runs.
In 1915 and 1916 the Boston Red Sox played their World Series games here.
The scoreboard was moved in 1928 to the rear of right field.
From 1936 to April 29, 1941 the ballpark was called the Bee Hive.
Fir trees were planted beyond the center field fence to mask smoke from the nearby railroad.
In 1948, a 68-foot scoreboard was added in left field.
Boston University purchased the field in the 1950s and put in a football field from the first base dugout to right-center.
A plaque was placed on the site in 1988 recounts the history of the park.
Hosted the 1936 All-Star game.
*Source Wikipedia
#Source ballparks.com
BELOW ARE SOME OF THE ARTIFACTS FROM BRAVES FIELD IN THE MUSEUM – CLICK THE IMAGES FOR A LARGER VIEW