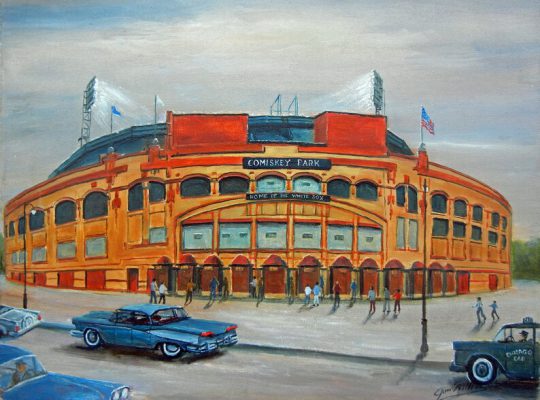 Comiskey Park was located in the Armour Square neighborhood on the near-southwest side of the city. The stadium served as the home of the Chicago White Sox of the American League from 1910 through 1990. Built by White Sox owner Charles Comiskey and designed by Zachary Taylor Davis, Comiskey Park hosted four World Series and more than 6,000 Major League Baseball games.
The park was built on a former city dump that Comiskey bought in 1909 to replace the wooden South Side Park. Originally White Sox Park, within three years it was renamed for White Sox founder and owner Charles Comiskey. The original name was restored in 1962, then it changed back to Comiskey Park in 1976.
Comiskey Park was very modern for its time. It was the third concrete-and-steel stadium in the major leagues to be built since 1909. As originally built, it seated almost 32,000, a record at the time. Briefly, it retained the nickname "The Baseball Palace of the World." *
COMISKEY PARK FACTS #
A.K.A.: White Sox Park (II) (1910 to 1912), Charles A. Comiskey's Baseball Palace (1910), White Sox Park (III) (May, 1962 to 1975).
Foul lines were old water hoses, painted white and pressed flat.
A section of the grandstand collapsed on May 17, 1913.
Special elevator for Lou Comiskey, in use from 1931 to 1982, had an inlaid tile floor.
Green cornerstone laid on St. Patrick's Day in 1910. It remained green until 1960, when the exterior was painted all white by Bill Veeck.
Nine speaker horns on the center field bleacher wall.
Clock on wall in center to left of flagpole.
Picnic areas, including bullring in left and bullpens I and II in right and right-center.
Bavarian and Mexican restaurants and beer halls under the stands behind home plate.
Showers in the bleachers in center.
Foul poles bend back slightly to join the top of the roof.
Organist Nancy Faust played "Na-na-na-na, Na-na-na-na, Hey-hey, Good-bye."
Open arches between first and second decks.
Chicago Cubs played their 1918 World Series home games here to take advantage of its large capacity.
Site of the 1983, 1950 and 1933 All-Star games.
The tradition of playing the Star-Spangled Banner at baseball games started here in 1918. League officials had considered cancelling the World Series due to World War I, until they learned that American soldiers in France were looking forward to knowing the results of the Series. During the seventh-inning stretch of the first game, the band suddenly started playing the song as a patriotic gesture. Players and spectators stood, took off their hats, and sang.
*Source Wikipedia
#Source ballparks.com
BELOW ARE SOME OF THE ARTIFACTS FROM COMISKEY PARK IN THE MUSEUM – CLICK THE IMAGES FOR A LARGER VIEW