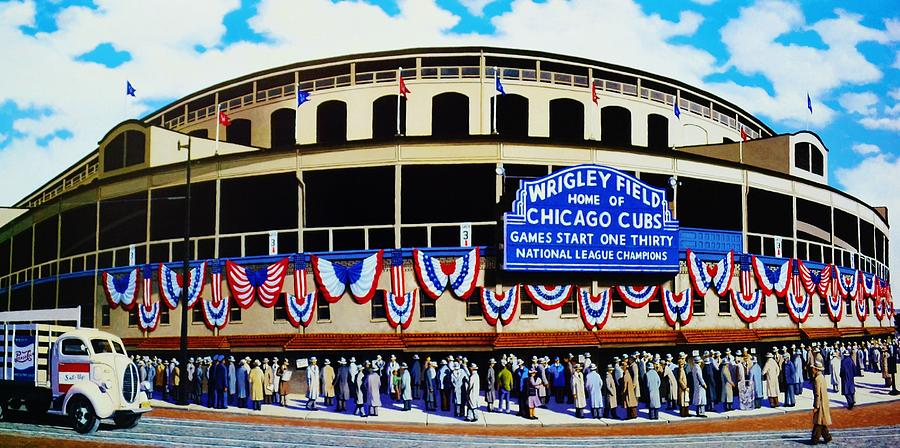 The first park on Chicago's North Side, Wrigley Field cost $250,000 when it was built in 1914. Charlie Weeghman built the park to house his baseball team, the Chicago Federals (a.k.a. the Chi-Feds and, later, as the Whales) of the brand-new Federal League, which was challenging the established major leagues. The Federal League folded after only two years, so Weeghman, leading a ten man syndicate which included chewing gum magnate Willam Wrigley, Jr., purchased the Cubs of the National League. The team was moved from West Side Grounds to what was then known as Weeghman Park. In 1918, Wrigley took over Weeghman's share of the team and by 1919 had bought out the shares of the other members of the syndicate. The name of the stadium was changed to Cubs Park in time for opening day, 1920. It was renamed Wrigley Field in his honor in 1926. *
WRIGLEY FIELD FACTS #
The only remaining Federal League ballpark, the Federals/Whales played here from April 23, 1914, to October 3, 1915.
Beautiful ivy vines on the outfield wall.
Flags with Ernie Banks's uniform No. 14 and Ron Santo's uniform No. 10 fly from the left-field foul pole. Flags with Ryne Sandberg's No. 23 and Billy Williams's No. 26 fly from the right-field foul pole.
After each game, a white flag with a blue "W" flying from the center-field flag pole signifies a Cubs win, a blue flag with a white "L" a Cubs loss.
Until the early nineties, the win flag was blue and the loss flag was white. But, it was pointed out that a white flag was the flag of surrender! Jokingly, it was said that the white loss flag was getting weather-beaten from overuse. It was also pointed out that flags honoring Banks, Williams and others had a white background, so all "good" flags should be white.
Site of the 1990, 1962 (II) and 1947 All-Star games.
Wrigley is affected by wind conditions more than any other major league park. Breezes off Lake Michigan favor pitchers, but winds blowing toward Lake Michigan take homers with them.
The center field 400 sign is slightly right of straightaway center field.
The only park where it's more difficult to hit a homer down the foul line than to hit one 50 or so feet out in fair territory, because the bleachers protrude into the outfield.
In 1923 the foul lines were shifted slightly because of renovations to the park.
The left-field bleachers were removed in 1925.
In the winter of 1926-1927, the grandstand was double-decked, and the playing area was lowered several feet.
For World Series in 1929, 1932, and 1935, extra bleachers were built on the street on Waveland and Sheffield.
*Source Wikipedia
#Source ballparks.com
BELOW ARE SOME OF THE ARTIFACTS FROM WRIGLEY FIELD IN THE MUSEUM – CLICK THE IMAGES FOR A LARGER VIEW