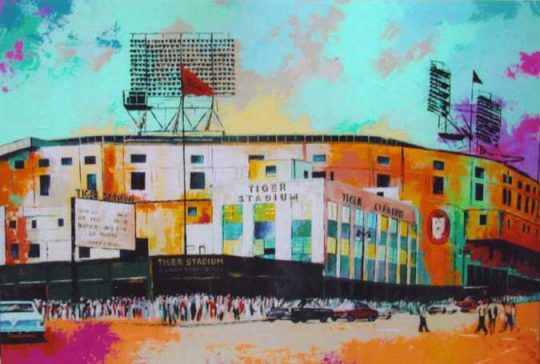 Tiger Stadium opened in 1912, the same day Boston opened Fenway Park, but baseball had been played on the site since 1896, five years before the Tigers or the American League existed. Navin Field, the original name of the park, was built on the site of old Bennett Park. It was named after owner Frank Navin, and it was renamed Briggs Stadium in 1938, two years after Walter Briggs took over the team.
Briggs Stadium was renamed Tiger Stadium in 1961. The National Football League's Detroit Lions moved in for a few decades, playing two NFL championship games at Tiger Stadium before leaving in 1975 for the nearby Pontiac Silverdome.
Tiger Stadium's best seats put fans as close to the action as any ballpark in the league. However, some of the lower-deck seats behind third base had their views of both the mound and home plate blocked by posts. In some of the seats, the upper deck blocked one's view of any ball hit in the air.
Tiger Stadium was the playground for the likes of Lou Whitaker and Alan Trammell. Many remember Kirk Gibson homering off Goose Gossage in Game 5 of the 1984 World Series. Before that there was Al Kaline patroling right field and the 1968 World Series against the St. Louis Cardinals. Of course, in the early days, the ballpark hosted the Tigers of Ty Cobb and "Wahoo" Sam Crawford. *
Opened: April 20, 1912
First night game: June 15,1948
Last Tigers game: September 27, 1999
Demolished: June 30, 2008
Surface: Bluegrass
Capacity: 23,000 (1912); 30,000; (1923); 52,416 (1937)
TIGER STADIUM FACTS #
On the same site as old Bennett Park (1896-1911) but turned around 90 degrees.
First named for Tigers owner Frank Navin. Renamed by then owner Walter Briggs in 1938. Renamed Tiger Stadium in 1961.
Sign above the visitors' clubhouse reads: "Visitors Clubhouse – No Visitors Allowed."
Right-field second deck overhangs the lower deck by 10 feet.
Screen in right in 1944 and in 1961 required balls to be hit into the second deck to be home runs.
Only double-decked bleachers in the majors; upper deck from left-center to center, lower deck from center to right-center.
125-foot-high flagpole in play in deep center, just to the left of the 440 mark – highest outfield obstacle ever in play in baseball history.
The scoreboard now on the left-field fence was originally placed at the 440 mark in dead center in 1961 but was moved when Norm Cash, Al Kaline, and Charlie Maxwell complained that it hindered the batters  view of the pitch.
A string of spotlights is mounted under the right-field overhang to illuminate the warning track, which is shadowed from the normal light standards.
Cobb's Lake was an area in front of home plate that was always soaked with water by the groundskeepers to slow down Ty Cobb's bunts.
When slugging teams came to visit, Manager Ty Cobb had the groundskeepers put in temporary bleachers in the outfield so that long drives would be only ground-rule doubles.
Double-decked from first to third base in winter of 1923-1924. Capacity increased in winter of 1935-36 by double-decking the right-field stands, and in the winter of 1937-1938 by double-decking both the left-field stands and the center-field bleachers.
In the 1930s and 1940s there was a 315 marker on the second deck in right field.
In 1942 and 1943 the center field distance was only 420 feet. The notches just left and right of dead center were closer than 420, at 405 feet.
Second-to-last classic old ballpark to put in lights, in 1948 (before Wrigley Field).
Home to the Detroit Lions (NFL) until they moved into the Silverdome in 1975.
Norm Cash cleared the roof four times in 13 months in 1961 and 1962, including twice in three days in July 1962. Mickey Tettleton did it twice in a week in 1991, and Mickey Mantle managed to do it three times as a visiting player.
Hosted the 1971, 1951 and 1941 All-Star games.
Reggie Jackson's mammoth shot in the 1971 All-Star Game hit a transformer above the roof in right.
Babe Ruth hit his 700th career homer here on July 13, 1934 before there was an upper deck. The ball cleared the right-field stands and rolled several hundred feet down a street. Eight years earlier he had paid $20 to a youngster who retrieved one of his home run balls which had rolled more than 800 feet from home plate.
Tiger Stadium was sold to the city of Detroit on January 1, 1978 for $1.00 and leased back for 30 years. The city received a $5 million federal grant and issued $8.5 million in bonds to pay for renovations, including replacement of the old green wooden seats with blue plastic seats.
The movie "61*" was filmed here in August 2000, after the Tigers had moved to Comerica Park. For Yankee Stadium scenes, a special green paint was applied to the infield seats, and a partial third deck and 1961 Bronx skyline were added digitally in post-production. After filming, the green paint was washed off with a high-pressure water hose, revealing their original blue color.
*Source Wikipedia
#Source ballparks.com
BELOW ARE SOME OF THE ARTIFACTS FROM TIGER STADIUM IN THE MUSEUM – CLICK THE IMAGES FOR A LARGER VIEW