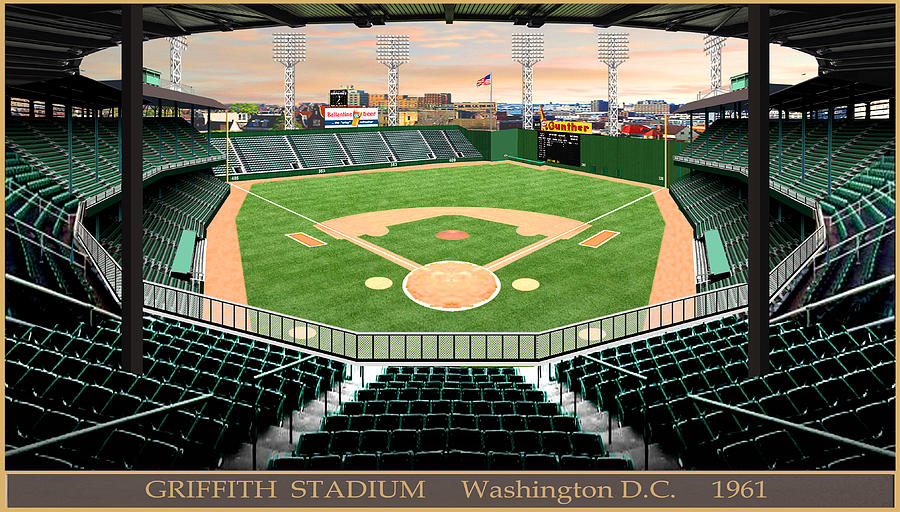 Griffith Stadium stood in Washington, D.C., from 1911 to 1965, between Georgia Avenue and 5th Street (left field), and between W Street and Florida Avenue NW.
The site was once home to a wooden baseball park. Built in 1891, it was called Boundary Field, or National Park after the team that played there: the Washington Senators/Nationals. It was destroyed by a fire in 1911.
It was replaced by a steel and concrete structure, at first called National Park and then American League Park; it was renamed for Washington Senators owner Clark Griffith in 1923. The stadium was home to the American League Senators from 1911 through 1960, and to an expansion team of the same name for their first season in 1961.
The venue hosted the All-Star Game in 1937 and 1956 and World Series games in 1924, 1925, and 1933. It served as home for the Negro league Homestead Grays during the 1940s, when it hosted the 1943 and 1944 Negro World Series. It was home to the Washington Redskins of the National Football League for 24 seasons, from the time they transferred from Boston in 1937 through the 1960 season.
The ballpark was demolished in 1965; the site is now occupied by Howard University Hospital.  *
Opened: 1891
First Senators game: April 22, 1903
Rebuilt: July 24, 1911
First night game: May 28, 1941
Last game: September 21, 1961
Demolished: January 26, 1965
Capacity: 32,000 (1921); 27,550 (1961).
GRIFFITH STADIUM FACTS  #
A.K.A. American League Park, Beyer's Seventh Street Park, League Park, National Park (until 1920), Clark Griffith Park (1922).
Renamed Griffith Stadium in 1920.
Loudspeaker horn high on the wall in center.
The center-field wall detoured around five houses and a tree that jutted into the field of play.
Right-field foul line was the grandstand wall for the last 15 in front of the foul pole.
It was downhill from the plate to first base, to save a step for slow Washington batters.
U.S. presidents traditionally opened each season by throwing out the first ball in this stadium.
National Bohemian Beer bottle, above right-center scoreboard, was approximately 50 feet tall.
Park was rebuilt after March 17, 1911, fire; completed on July 24, 1911.
Double-decked in 1920 from the bases down to the foul poles.
New roof higher than the original second deck roof behind the plate.
Hosted the 1956 and 1937 All-Star games.
Park demolished from January 26 to August 14, 1965.
909 of the seats are now in use at Tinker Field in Orlando, Florida.
*Source Wikipedia
#Source ballparks.com
BELOW ARE SOME OF THE ARTIFACTS FROM GRIFFITH STADIUM IN THE MUSEUM – CLICK THE IMAGES FOR A LARGER VIEW