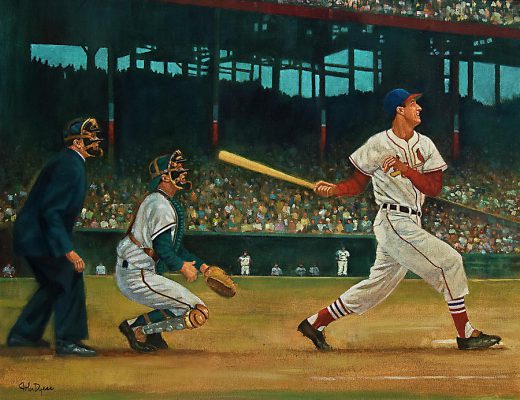 Sportsman's Park was the name of several former Major League Baseball ballpark structures in St. Louis, Missouri. All but one of these were located on the same piece of land, at the northwest corner of Grand Boulevard and Dodier Street, on the north side of the city.
Sportsman's Park was the home field of both the St. Louis Browns of the American League, and the St. Louis Cardinals of the National League from 1920 to 1953, when the Browns relocated to Baltimore and were rebranded as the Orioles.
The physical street address was 2911 North Grand Boulevard. The ballpark (by then known as Busch Stadium, but still commonly called Sportsman's Park) was also the home to professional football: in 1923, it hosted St. Louis' first NFL team, the All-Stars, and later hostsd St. Louis Cardinals of the National Football League from 1960 (following the team's relocation from Chicago) until 1965, with Busch Memorial Stadium opening its doors in 1966.  *
SPORTSMAN'S PARK FACTS #
Renamed Busch Stadium in 1953, but still commonly referred to as Sportsman's Park.
The local newspaper, the Globe-Democrat, had an ad on the right-center wall that showed the star of the previous game. Just to the right of this ad, the league standings for both leagues were listed.
The Budweiser eagle would flap its wings after every Cardinal home run. It sat on top of the left-center scoreboard. During World War II there was a War Chest sign there.
The Herbert Hoover Boys' Club, with a baseball diamond where the major league one used to be, now stands on the site of the stadium.
Cardinals office was at 3623 Dodier; Browns office was at 2911 North Grand.
There were pavilion seats in the power alley in right-center.
A second deck, from first base to third, was added in 1909 and expanded to the foul poles in 1925.
Bleachers were added to parts of the outfield in 1926.
The flagpole stood in fair territory until it was removed in the 1950s.
Bill Veeck's family lived in an apartment under the stands in the 1950s.
When he bought the stadium from the Browns in 1953, Cardinals owner Gussie Busch almost named it Budweiser Stadium but was prevented by league pressure.
A helicopter carried home plate to Busch Memorial Stadium after the last game at Sportsman's Park on May 8, 1966.
Site of the 1940, 1948 and 1957 All-Star games.
*Source Wikipedia
#Source ballparks.com
BELOW ARE SOME OF THE ARTIFACTS FROM SPORTSMANS PARK IN THE MUSEUM – CLICK THE IMAGES FOR A LARGER VIEW