Why is a beat up ol' blue seat in this museum? How did I end up here? What have I seen or done to warrant being on display in the National Ballpark Museum? Well, I hope you have some time because I have a few stories to share.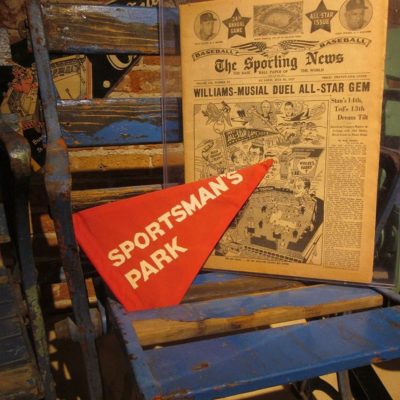 Museums house relics and artifacts that represent the past. As you can see I am rather old, have been greatly used and am a huge part of our country's greatest pastime. Baseball. Oh, the sights and smells that I have witnessed! As the home for two teams, the St. Louis Browns and the St. Louis Cardinals for 34 seasons, I have hosted more Major League games than any other ballpark in history! Its early history included a couple of St. Louis Browns teams, six fires in ten years and a lot of rebuilding. Then in 1902 a new Sportsman's Park was built with a double deck steel and concrete grandstand. In 1912 another double deck was built and then two pavilions added in 1925. It was such a beautiful place.
But I digress, the baseball moments that I have witnessed were glorious, ridiculous and once in a lifetime! The Cardinals left their home at Robison Field and joined the Browns at Sportsman's Park in 1920. They made their first World Series appearance in 1926. Those early years watching both teams were special. Baseball was finally taking hold in St. Louis after some rough times at the turn of the 20th century and I had fans using me almost every night! After nearly winning the American League Pennant in 1922, the Brown's owner predicted that there would be a World Series in Sportsman's Park by 1926. In anticipation, 12,000 more seats like me were added to the ballpark, and there was a World Series at Sportsman's Park—but it was the Cardinals, not the Browns, who upset the Yankees in a memorable seventh game! Baseball fans were coming through the turnstiles more and more for the Cardinals who set attendance records from 1926-1953. The Browns struggled to keep their fans and to play good baseball. My fondest memory has to be the All-St. Louis World Series of 1944. It remains the last World Series to be played entirely in one ballpark! The Cardinals beat the Browns in six games. THAT series, with both teams competing for the title, remains a special part of baseball's history! Can you imagine cheering fans, hotdogs and beers surrounding me for all those games? Sigh. Sportsman's Park also had some bizarre moments in baseball history.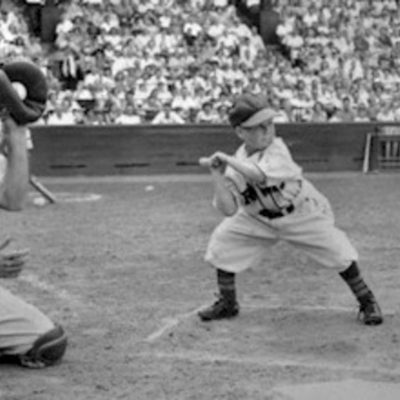 Brown's owner Bill Veeck will forever be remembered for sending a three-foot, seven-inch Eddie Gaedel, aka "The Midget' to the plate in a game in August 1951, Gaedel had jumped out of a cake between games of a doubleheader as part of a huge show for the American League's golden anniversary. Veeck's hints of a wild stunt and celebration filled the seats. I remember the fans wild reactions to Gaedel's digging in the batter's box! He walked on four pitches, but the spectacle of it all will forever be a part of Sportsman's Park's legacy. The Brown's sold Sportsman's Park to the Cardinals before moving to Baltimore, and new owner August A. Busch renamed the ballpark Busch Stadium. I saw a lot more baseball as the Cardinals stayed and played at Sportsman's park for 12 more seasons. Sportsman's Park stories carry the tradition and grandeur of the great game of baseball. I keep it alive in my slates and paint. So — come by and see my worn slats and smell the popcorn (and beer) with me, give me some love!