"There's a long drive… it's gonna be, I believe… The Giants win the pennant! The Giants win the pennant! The Giants win the pennant! The Giants win the pennant!"
Did you hear Russ Hodges on the radio call the "shot heard round the world"? Folks were going crazy when the Giants' Bobby Thompson hit the walk off home run off of the Dodger's Ralph Branca to launch the Giants into the 1951 World Series? I didn't hear it, but only because I was there in the stands at the Polo Grounds.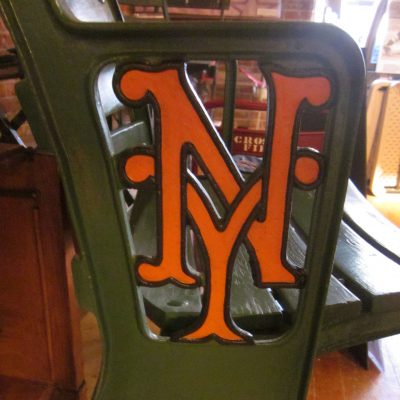 The name Polo Grounds dates back to 1880 when New York's first professional baseball team, the Metropolitans, played at the Polo Grounds that sat just northeast of Central Park. Four iterations of the Polo Grounds were constructed beginning in 1883 in two different locations, The New York Giants were the primary tenants. My version of the Polo Grounds is often labeled as the Polo Grounds IV. It opened on June 28, 1911 – just three months after a large part of the Polo Grounds III was damaged in a fire.
The Polo Grounds was one of the most uniquely shaped ballparks build in the steel and concrete era. The grandstand was built in the shape of a horseshoe or bathtub, thus leading to the nickname of the bathtub. The home clubhouse was built in center field 505 feet from home plate. The dimensions were just 257 feet to the right field foul pole and 279 feet out to left. I still remember seeing Willie Mays catch that fly ball off the bat of Cleveland's Vic Wertz over his shoulder while running toward the right center field fence in the 1954 World Series. What a catch!
The Giants weren't the only team I got to see close up. The Yankees played here from 1913-1922. It was so fun watching Babe Ruth play right in front of me until he moved across the river to that new stadium. Football was another mainstay at the grounds. Both Fordham and Army played games here and the New York football Giants resided here from 1925-1955.
After the 1955 season the football Giants moved across the river to play at Yankee Stadium. Then in 1958 the baseball Giants moved all the way across the country to San Francisco. It was very lonely for a few years but the New York Titans (later named the Jets) arrived in 1960. Finally, the New York Mets brought baseball back to the Grounds in 1962. The team was painful to watch but Casey Stengel was such a character as their manager. My fun came to an end after the 1963 seasons as both the Mets and Jets moved to that new Shea Stadium in Queens. The last thing I remember was being removed to storage before the wrecking ball had it's way with the ballpark in 1964. It was a great ride!