QUEEN OF THE DIAMOND: The Lizzie Murphy Story
Written and Illustrated by Emily Arnold McCully; Farrar Straus Giroux, New York; 2015
Picture Book, Non-fiction, Biography, includes Author's Note. Baseball, Women/Girls, Equality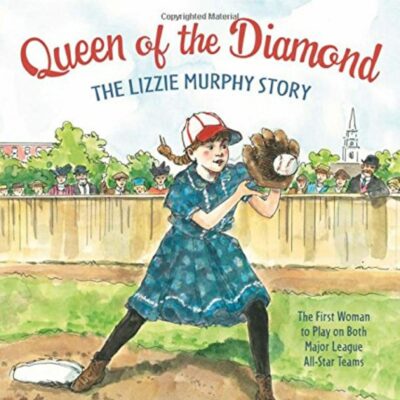 In 1900, everyone was playing baseball. Lizzie Murphy loved baseball and followed all the amateur teams in Warren, Rhode Island where she was born. Her brother, Henry, wanted to improve his shortstop skills in order to play on the best boy's teams. For many long hours each day, he played catch with Lizzie, who at six years old was able to "thunk" the ball right into Henry's glove every time. She decided she wanted to play 1 st base. But, in the 1900s, girls didn't play baseball. She asked the captain of Henry's team if she could try out but was refused, even though she was better than all the boys. One special day, Henry's team was ready to play a game but neither team had a ball. Lizzie had hers and bargained to let them use it only if allowed to play first base. From then on, she joined several teams, including 2 amateur teams by the time she was fifteen. Her mother tried to convince her that "baseball wasn't right for girls." 
Warren also had a semipro team and Lizzie decided she had to at least try out. The manager had seen her play and thought having a girl on his team would attract many fans and bring in more money. He signed Lizzie and his idea was successful with full stands at most games. Lizzie was living her dream of making a living playing baseball. Semi-pro teams were paid weekly. When the manager paid all the men but not Lizzie, she came up with a plan. 
Lizzie's fans called her "Queen of Baseball" for the next seventeen years of her professional baseball career, AND, she received the same pay as the men.
The Author's Note extends Lizzie Murphy's professional baseball career beyond this story. The illustrations are fun and timely examples of the clothing of the 1900s. They provide further information about Lizzie's uniforms from her dress to the one with her name on the front, sewed on by her mother.
This story is a good example of standing up for yourself and outsmarting your adversaries. Lizzie Murphy became the first woman to play against a Major League team in 1922, and the first woman to play on a Negro League team.