PLAYERS IN PIGTAILS
By Shana Corey, Illustrated by Rebecca Gibbon; Scholastic Press, New York; 2005
Picture Book, Historical fiction, Includes Author's Note, Baseball, Women's leagues, Legendary song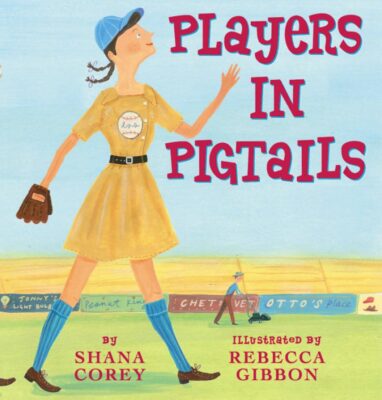 PLAY BALL!
What pops into your mind when hear that?
The crowd.
The stadium.
Peanuts and Cracker Jacks.
Hot dogs.
The crack of the bat.
The announcer.
The excitement!
Do you look forward to singing "Take me out to the ballgame" for the 7th inning stretch?
How many times have you sung that song?
Did you know that the song was composed by Jack Norworth in 1908 and it's about a girl? In the 1940's, everyone in the USA was crazy about baseball. This is a fun and delightful story of an imagined story girl named Katie Casey (yes, as in the song!) and how she might have played for the first ever All-American Girls Professional Baseball League. The author, Shana Corey, researched this league after watching the movie, "A League of their Own."
Listen to this – I can't give a better synopsis:
 Buy "Players in Pigtails" on hardcover, paperback, or audio book
For more information about All-American Girls Professional Baseball League: https://baseballhall.org/discover-more/stories/baseball-history/league-of-women-ballplayers
Listen and watch this video of the whole song, "Take Me Out to the Ballgame": https://www.youtube.com/watch?v=Xzq43kndW7U
Major League Baseball's unofficial anthem "TAKE ME OUT TO THE BALL GAME" celebrated its 100th birthday in 2008. This is a video recreation of the original illustrated song slide program (with some additional slide elements from the same era) that was shown to the public in 1908. Illustrated songs (predecessors of today's music videos) were presented in vaudeville theaters and early movie houses to help sell sheet music to the public. When a new song was published 14 to 16 photographic glass slides were created utilizing actors and models who portrayed the storyline of the song's lyrics. In the theaters a "song illustrator" stood on stage and sang the song while the sequential slides were projected on screen. A lot of sheet music was sold this way. These days only the song's chorus is familiar to the public. This is one of the original renditions of the song recorded in 1908 by Edward Meeker, an Edison technician.