Don't forget the National Ballpark Museum's event THIS WEEKEND on July 27th: 'Japanese American Baseball A Shared Experience', it takes place at History Colorado Center on July 27th from 3:30-5:30pm. This is a one time fund raiser event for the NBM (National Ballpark Museum). The National Ballpark Museum is a 501(c)(3) non-profit organization and receives all its proceeds from private donations and admission.
5 Men Who Changed the Way We Look at Japanese American Baseball
Many people and players have influenced our Japanese American Baseball experience over the last 100 years. In today's blog, I wanted to briefly share the stories of five men that I feel changed the way that we look at the Japanese American Baseball experience. They are listed in their order of appearance in history.
Kenichi Zenimura (January 25, 1900 – November 13, 1968) was a Japanese baseball player and manager, known as "The Dean of the Diamond." After his death he has come to be recognized as "The Father of Japanese American Baseball".
Zenimura was born in Hiroshima, Japan and his family moved to Honolulu, when he was 8 years old. In 1920 he moved to Fresno, CA where he played baseball on Japanese-American and previously all-white teams. He was a great player and manager who became an international ambassador of the game and led barnstorming tours to Japan before World War II.
During World War II, Zenimura and 120,000 other Japanese-Americans were sent to internment camps across the southwest United States, as directed by Executive Order 9066, signed by President Franklin Delano Roosevelt, on February 19, 1942.
Zenimura and his family were interned in Arizona on the Gila River Indian Reservation at the Gila River War Relocation Center. Almost immediately upon arrival at Gila River, Zenimura built a baseball field and established a league. Baseball at Gila River gave Japanese-Americans a sense of pride, hope and normalcy, making life bearable during their unjust incarceration.
After the war, Zenimura returned to Fresno and continued to play competitive ball until the age of 55. He continued to be a great negotiator for contracts of nisei players in the US and Japan including his sons Kenso and Kenshi who eventually played for the Hiroshima Carp.
2. Eiji Sawamura (February 1, 1917 – December 2, 1944) is best known by Americans for one game in 1934. He is best known by Japanese for the award that bears his name. On November 20, 1934, the 17-year-old Sawamura faced a team of visiting all-star players from Major League Baseball. Entering the game in the fourth inning, the high school pitcher struck out nine batters including Charlie Gehringer, Babe Ruth, Lou Gehrig, and Jimmie Foxx in succession. Connie Mack, who was managing the American team, was so impressed by Sawamura's performance that he tried to sign him to a Major League contract; Sawamura refused to go, citing a reluctance to leave home.
Sawamura had great success in the newly formed Japanese Baseball League in the years leading up to World War II. Although he was killed in the war, he was inducted into the Japanese Hall of Fame and the Sawamura Award was created to honor the leagues best pitchers (Japan's equivalent to MLB's Cy Young Award).
3. Masanori "Mashi" Murakami is not very well known, but he was the first Japanese player ever to play for a Major League team. Sent over to the United States by the Nankai Hawks, Murakami saw success as a reliever for the San Francisco Giants, debuting at the age of 20 in 1964. In 1965, he struck out over one batter per inning pitched, posted an ERA under 4 and earned eight saves. Following this season, however, Murakami headed back to his original Japanese club due to contractual obligations, where he continued his success for another 17 years.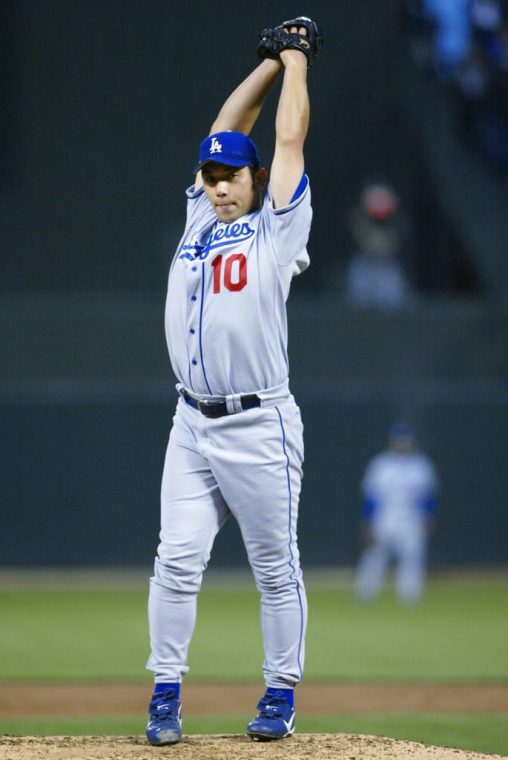 4. Hideo Nomo was signed by the Los Angeles Dodgers in February of 1995. It had been 30 years since a Japanese born player played in MLB, but it was worth the wait! After 5 years of success with the Kintetsu Buffaloes of NPB (he won the Sawamura in 1990) the 6'2″ Nomo moved to the Dodgers and had immediate success. He posted 236 K's and broke a record held by Sandy Koufax of 11.1 K's/9 innings. He went on to have 2 no-hitters and an overall total of over 200 wins between MLB and NPB. He was elected to Japan's Baseball Hall of Fame in 2014.
Nomo's success helped inspire other stars from Japan such as Ichiro Suzuki, Hideki Matsui, and Daisuke Matsuzaka to come over to the States as well.
5. Ichiro Suzuki or simply known by Americans as 'Ichiro' will most likely be the first Japanese born MLB player to be elected to MLB's Hall of Fame. He spent his first 9 professional seasons having amazing success with NPB's Orix BlueWave before moving to America and joining the Seattle Mariners for the 2001 season and becoming the AL MVP. He continued his fabulous career with the New York Yankees and the Miami Marlins.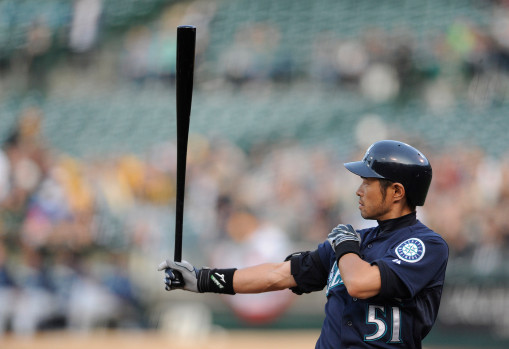 Ichiro has too many records and awards to mention, but here are a few of the more remarkable ones: single season record for hits at 262, 10 consecutive 200 hit seasons, 3000+ MLB hits. He was impossible for teams to keep off the bases. He has just retired after 28 seasons.