As part of the National Ballpark Museum's upcoming event on July 27th: 'Japanese American Baseball A Shared Experience', I would like to spend a few days and share some of the history surrounding the Japanese American baseball experience. First of course, a reminder about the event. It takes place at History Colorado Center on July 27th from 3:30-5:30pm. This is a one time fund raiser event for the NBM (National Ballpark Museum). The National Ballpark Museum is a 501(c)(3) non-profit organization and receives all its proceeds from private donations and admission.
A Brief History of Baseball in Japan
Baseball was first introduced to Japan in the 1870's. Two men are largely credited with its introduction in the country. The first was Horace Wilson, an American professor teaching in Tokyo, who brought the game to his Japanese students. The second gentleman was Hiroshi Hiraoka, a Japanese engineer, who returned from studying in the United States toward the end of the decade and quickly formed an organized team with some of his co-workers.
Japanese universities really spread the popularity of the game. By the turn of the Twentieth Century, the Big Six University League was dominating the game in Japan. A number of these schools also played teams formed by American ex-patriots in Japan and even traveled to the United States for competition. And, Japan began to see American university teams visiting to play their Japanese counterparts.
By 1908, professional American all-star teams began traveling to Japan to play exhibition games and promote professional baseball. There were tours in 1908, 1913, 1920, 1922 and 1931, but the American teams always played Japanese amateur or college ballclubs. The games were quite lopsided. Even so, the game had a following.
1934 American All-Star Tour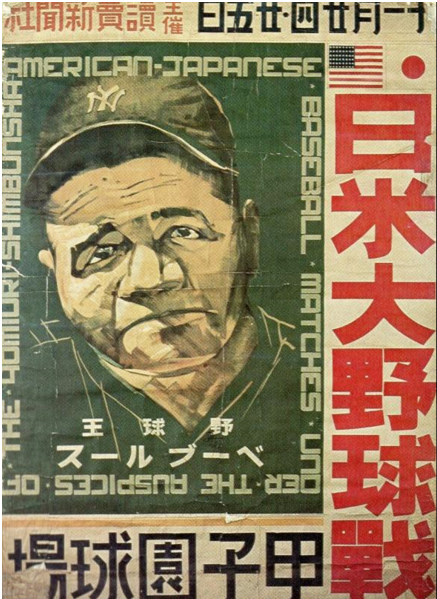 In 1934, another group of American All-Stars went on tour in Japan. This group feature very talented American League stars (the NL did not allow their players to travel) like Babe Ruth, Earl Averill, Lou Gehrig, Charlie Gehringer, Lefty Gomez, Connie Mack, Jimmie Foxx, Moe Berg and others. Yomiuri Shinbun (newspaper) owner Matsutarou Shouriki brought together Japan's version of the dream team. The tour was quite popular and the Japanese All-Star team continued to barnstorm and eventually became the Great Tokyo Baseball Club, Japan's first professional baseball team.
Pro Baseball in Japan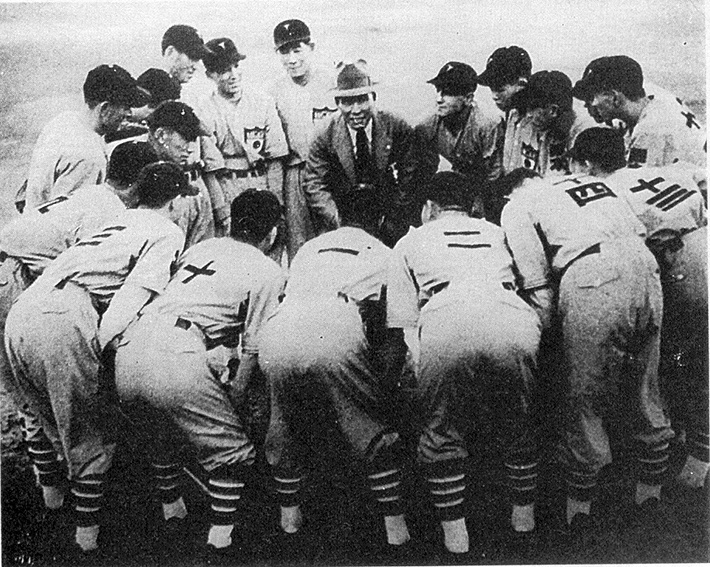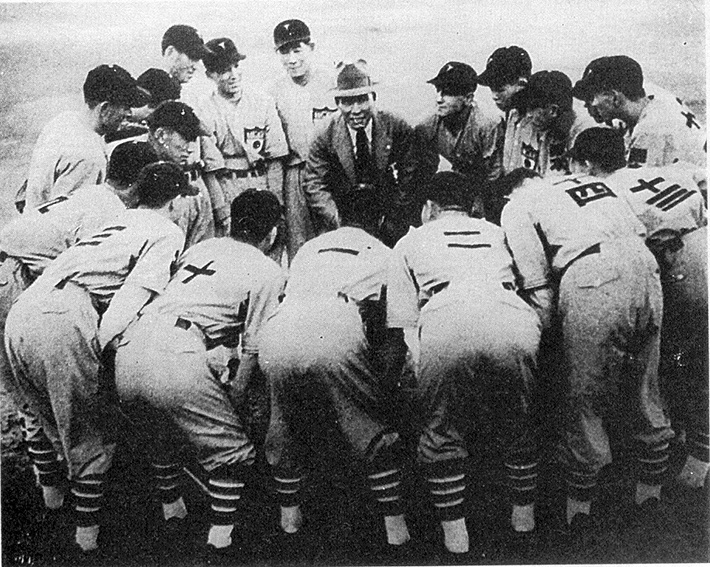 Organized professional baseball in Japan began with the Japanese Baseball League in 1936. The league played through 1949. Unlike American pro teams, Japanese Baseball League teams were usually named after their corporate owners/sponsors rather than the cities or regions in which they played. A region like Tokyo, might have multiple teams base on corporate ownership. Most Japanese Baseball League teams did not have an "official" home stadium; instead, teams played at any stadium in the area in which they were based.
In 1950, the league was reorganized the Nippon Professional Baseball (NPB). NPB exists today and has produced many stars that have move to America and starred in MLB. Also, many American stars have moved to Japan and starred in NPB. The love of baseball has become a shared experience in both Japan and America!