YOU NEVER HEARD OF SANDY KOUFAX?!
By Jonah Winter Illustrated by André Carrihlo; Dragonfly Books Reprint Edition; 2016
Picture Book, Non-fiction, Biography, Sidebars filled with statistics, includes Glossary of Baseball Terms, About the Author and Illustrator
Written by Millie King who had the privilege of attending Dodger games and watching Sandy Koufax do his pitchers mound magic. As I read this book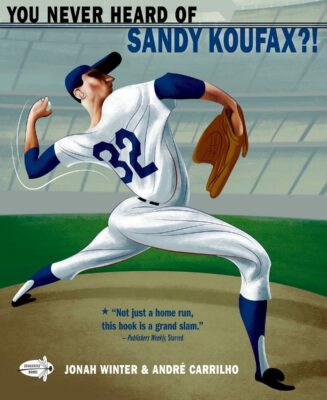 , I felt akin to the old-timer and was pleasantly reminded of those memories while watching the YouTube videos. I hope you can appreciate the talent of this Dodger.
Sandy Koufax: greatest left-handed pitcher who played for the Dodgers
Sandy Koufax, a man of surprises:
As a kid, Sandy was a success at every sport he played, best known for his basketball skills;
When he was 19, he met Al Campanis, a scout for the Brooklyn Dodgers, who offered him a contract;
In 1955, Sandy spent most of the season just warmin' the bench. He was shy, kept to himself, barely talked to anyone. He was one of the few Jews playing major league baseball and often faced prejudice;
The Dodgers moved to Los Angeles in 1957 and Sandy continued to throw more wild pitches. He met Don Drysdale but that didn't help Sandy to relax;
At the end of the 1957 season, he threw his #32 uniform in the trash and left without saying a word;
Next preseason he shows up. The trainer, Kawano, had rescued his uniform from the trash saying he thought Sandy might need it;
In a preseason game against the Twins, Norm Sherry, the catcher goes out to the mound and tells Sandy to just put it over the plate – we've got 9 guys who
can field; With bases loaded, Sandy goes into his windup, leans waaaaaay back and throws a rocket right over the plate. It's his fastest pitch ever and the turning point of his career. He became the strikeout machine for six years (1961 – 1966);
In 1965, he refuses to play in a World Series game because it falls on a Jewish high holy day;
At the peak of his game, Sandy announces he's retiring. His overused left arm was in danger if he continued to pitch.
This book catches one's eye right from the get-go! The lenticular cover follows Sandy's pitch from his iconic backward lean followed by his forward thrust as he releases a fast ball. The "grandly melodramatic" illustrations augment the story of his career and is narrated by an old-timer who lets us in on Sandy's secrets.
 Purchase "You Never Heard of Sandy Koufax?!" on Paperback or Hardcover
For more information:
https://baseballhall.org/hall-of-famers/koufax-sandy