I am no stranger to long hours of difficult and detail oriented hard work. Not only do I work at the museum as the Museum Manager, but I have been serving the Denver area Arts and Museum community as an artist and mold making specialist for over twenty years.
The lease was up on my art studio and the foundry which my studio was connected to and who poured my metal also closed. I had known Bruce Hellerstein (President and Creator of the National Ballpark Museum) for many years prior to that as I had made a mold of Bruce's pitching hand before. He called me and asked if I would be interested in working as the manager of the museum! As they say the rest is history, new job, new life.
I thoroughly enjoyed molding the hands of many famous individuals, not all were sport icons. My interest in American history stemmed from many years of making ethnic featured mannequins for national museums. I see baseball as an extension of the American landscape, there are always stories to be told.
I have a degree in Fine Art with a minor in Science. My husband, Frank and I have two children Carol and James. I have five grandchildren, Sandra, Allie, Aidan, Samuel, and Teddy.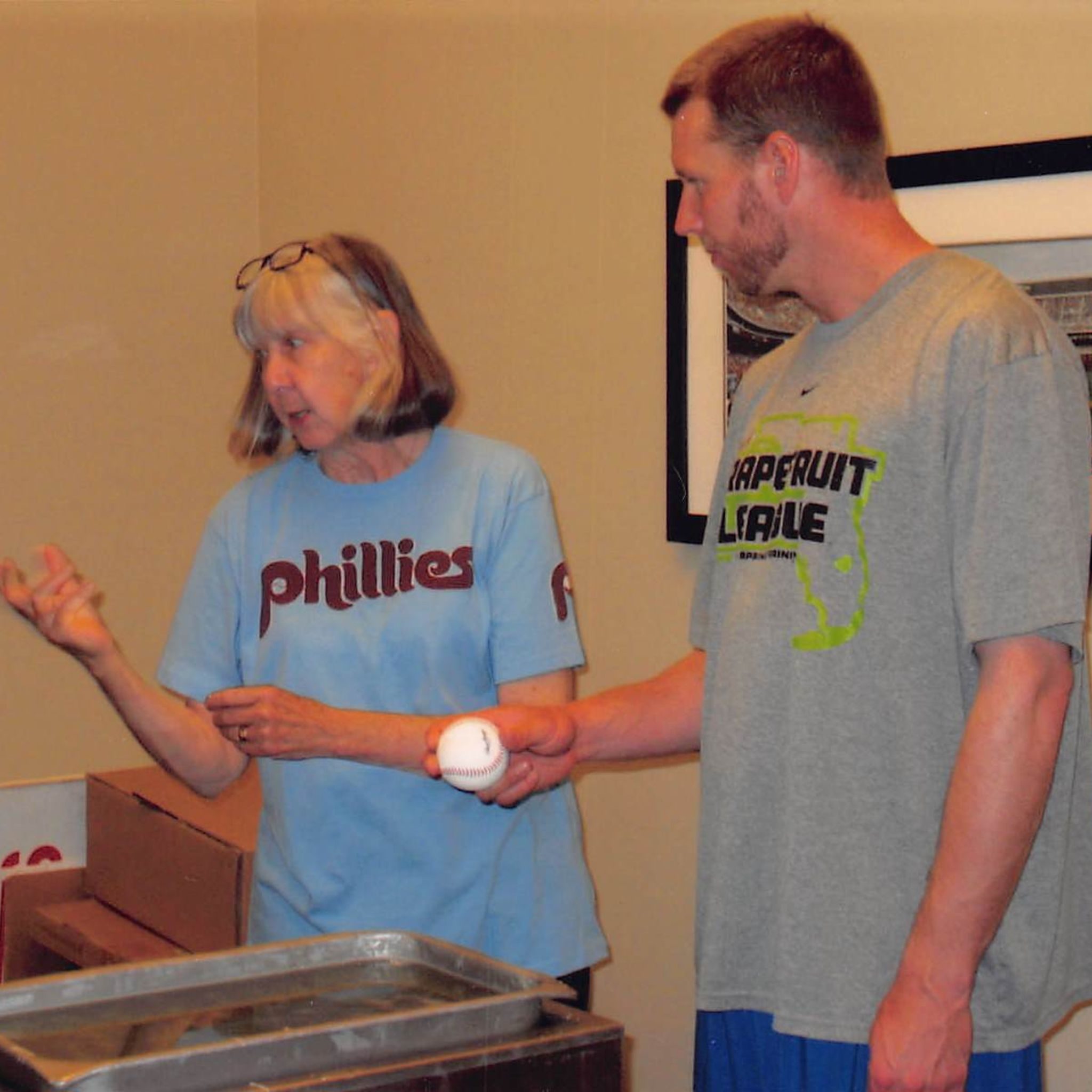 Hitter's Hands
(And many others)
We are very proud to be able to feature some of Raelee's incredible and unique artwork known as "Hitter's Hands" at the museum. Below is an excerpt from the bio that was written on her and her work when it was featured at Denver International Airport.
The introduction of the Colorado Rockies franchise to Denver brought a request to her studio from a Denver area restaurant for the creation of a display of baseball related artifacts. The restaurant owners being avid baseball fans wanted to create a theme oriented environment about baseball for their eating establishment. Enter Charlie Metro.
At this critical moment serendipity would see Raelee introduced to the former major league player and newly appointed member of the coaching staff for the new Colorado Rockies franchise. Through their joint collaboration the first prototype of Hitter's Hands was created. The sculpture was a copy of Charlie Metro's hands holding a bat.
The collaboration with Charlie Metro endured and prospered through the years. Charlie provided introductions to the sports community and Raelee worked her magic in casting. The end result of this collaboration has become a significant contribution to the history of baseball and sports memorabilia. The life cast bronze sculptures capture the touch, power, the detail of the great hitter's of the game standing at the plate waiting for the next pitch.
Raelee has cast the hands of:
– Ted Williams "Not as tough as I thought they would be. His hands were the only bronze life cast hands that the Smithsonian was interested in owning, they consider him an American icon."
– Buck O'Neil "A gentleman who taught me a great deal about the value of being humble."
– Duke Snider "A very down to Earth guy who shared many great stories."
– Stan Musial "Who played his harmonica at the end of the hand molding session."
– Ernie Banks "Who would call me often to check on my progress on his bronze life cast hands, I think we wanted someone to talk to about life in general."
– Roy Halladay, Tom Watson, John Elway, Dan Marino, Troy Aikman, Joe Montana.
– "The most notable life cast hands are the ones from Sir Edmund Hillary, who was the first to summit Mt. Everest. We met on several occasions, one to mold his hands of course but others just to visit. One of the most humble, unassuming men that Frank and I ever met. Sir Edmund used the sale of his hands to raise funds for the Sir Edmund Hillary Foundation, whose money was used to build schools in Nepal. It was a lifelong quest of his to fund those schools."