The need for Night Games
Baseball needed night games. It made sense that most people worked during the day, so attending a daytime game during the week was not possible for the average baseball fan. Weekend games were full, at least on Saturdays, but most cities banned baseball on Sundays. This made it difficult for many teams because that meant minimal crowds for 6 out of 7 days of the week.
Still, night games took a while to catch on at the major league level. The first such game did not occur until May 24, 1935, when the Reds and the Phillies met at Cincinnati's Crosley Field. The game was played following much fanfare. In a symbolic gesture, President Franklin D. Roosevelt "turned on" the lights from Washington D.C. Approximately 25,000 fans turned out for the spectacle at Crosley Field. Ultimately, the visiting Phillies prevailed, 2-1.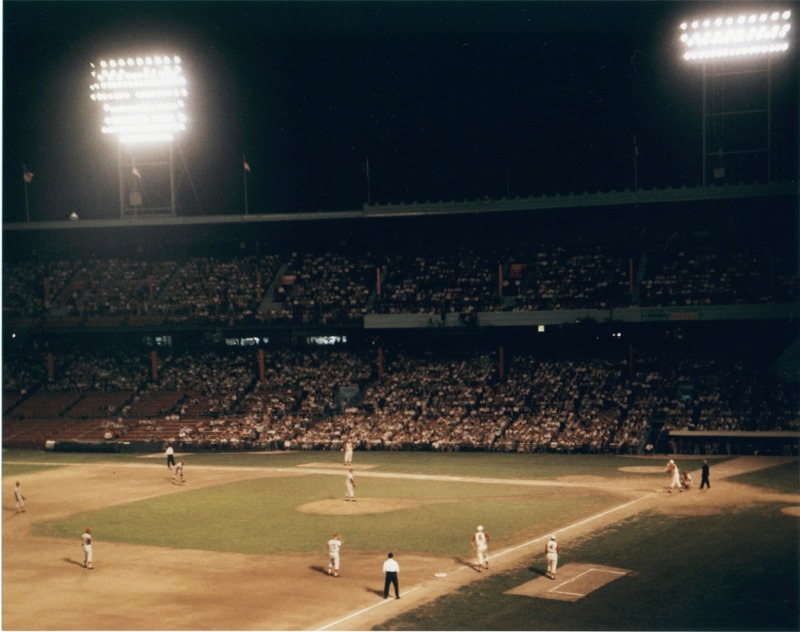 Early Lighting
In the early days of baseball, all games were played during the day. In the beginning there simply were no lights, because there was no electricity. Once lights were invented there was not yet the technology to put up light standards and the large spotlights that could illuminate the entire field.
Early attempts were made to show the public that baseball could be played under the lights. By the 1930's electricity was available in most places and lighting technology was improving. The Kansas City Monarchs of the Negro League even played a few night games with portable nights mounted on trucks.
The National Ballpark Museum features an area devoted to Cincinnati's Crosley Field. It includes information on the first night game in Major League Baseball history. Stop by and see this and so much more!