CHRISTMAS IN COOPERSTOWN
By David A. Kelly, Illustrated by Mark Meyers; Random House Books for Young Readers; Illustrated Edition; 2017
We wish you an extra inning.
We wish you an extra inning.
We wish you an extra inning.
And a leadoff home run!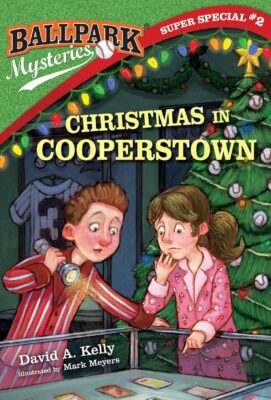 In David A. Kelly's book, Christmas at Cooperstown, cousins Mike and Kate find themselves solving another baseball mystery. This time during their Christmas break. The cousins live in Cooperstown, New York and belong to a community group called Cooperstown Cares. Many people are at the Hall of Fame working to raise money for a community center and Mike and Kate are helping to wrap gifts for the annual toy drive. Their favorite player, Big D are at the hall filming a documentary. Mike and Kate love all the activity and learn that all the volunteers from the group have been invited to sleep in the Hall of Fame! The very idea of spending a night in the Baseball Hall of Fame hooked me! Soon Kate and Mike find themselves trying to solve an expensive mystery. With the help of Mike's black-light flashlight they discover the 1909 Honus Wagner T206 baseball card worth two million dollars is missing! The young detectives know it is valuable, but more importantly that it is a significant piece of baseball history and must be found!
Mike and Kate with their powers of observation carefully piece together who may have stolen the card. They learn that even people who are trusted can be tempted to make bad decisions. David Kelly writes for the young fan and gently introduces baseball history and vocabulary through a mystery genre. He makes the reader reflect on what they have read to solve the mystery with Kate and Mike. The baseball fan in me escaped into the daydream of being in the Hall of Fame alone at night. It is a fantastic adventure with a lesson for young readers.
The Dugout Notes following the story will help young fans appreciate the setting David Kelly chose for this mystery. His notes include some history and special personal ties to the Hall of Fame.