I suppose I've given away just how long I have been a fan of this beautiful game of baseball with my picture, haven't I? That's me at my very first Rockies game, back in 1997. Since then I have been to hundreds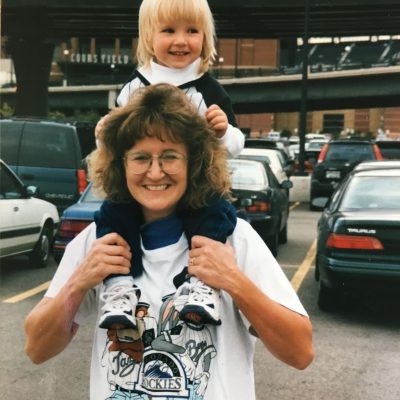 and can confidently say that Coors Field is my home, my favorite place on Earth.
Everything I learned about baseball I learned from my mom, Stacie, who also volunteers at the museum. I love being a fan of the Rockies because, while baseball can teach you a lot of life lessons, being a fan of a team that isn't always on top can teach you so much more. I've learned to respect the game and be grateful for every season, game, and minute spent at the ballpark.
When I am not watching baseball (and sometimes when I am, from my computer) I am the Vice President of Operations at Compass Rose Floral. I love that I get to support all varieties of couples who are getting married and also love that my work is eco-friendly as well. 
I love all outdoor activities like camping, rafting, and fishing as well as many introverted home-body activities as well.