Stacie Nelson's interview with David A. Kelly, author of the popular Ballpark Mysteries Series for young baseball fans. When his young sons desired to read about sports themes and loved mysteries, David Kelly began to research and learn about writing for this audience. After lots of work and rewriting his first book, Babe Ruth and the Baseball Curse was published! Two years later his first Ballpark Mystery-The Fenway Foul-Up followed, and he has been writing mysteries ever since. His newest book, The Triple Play Twins will be available February 2, 2021.
Q. I imagine it is too much fun to research each ballpark and its nuances and unique features. How much do you study and learn about a ballpark before writing your mystery?
Researching baseball parks is a tough job, but someone's got to do it! For each book I travel to the city where the ballpark is located and research for anywhere from two to six days. In addition to taking tours of the ballpark and catching a few games, I spend a lot of time visiting sites around the area, trying to a feel for the people, the environment, the weather, and other local aspects. I start with a list of sites or places to visit that I've found through previous online and book research.
The other challenge that I have with researching is that I usually don't know what the book is about at that point in the process, so that means I have to take notes and pictures of everything I'm doing, in a city or at a ballpark, because I don't know exactly what piece of information I'll need when I go to write the book. Will I need to know what the press box looks like, or where the stairway is near the main entrance to the stadium? That's why I come home with huge number of pictures and pages of notes from each trip. But don't worry—it's not all work. I usually make sure there's time to sit down and have a hot dog, an ice cream cone or some popcorn. After all—it's research!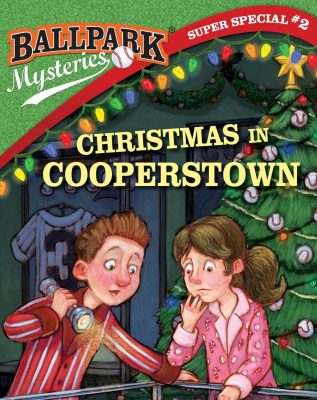 Q. Can you share the process you go through in developing the plot/problem of the mystery? Do you start with an idea or baseball element? Or use the ballpark and its setting as a starting place for your writing?
My process of writing a mystery is very much a mystery! When I start writing, I often don't know what the mystery will be, or how it will be solved. I usually start with a list of all the interesting and unique things I can think of relating to the ballpark, the team, the team's history, and the city. I identify a few key things that I feel are important or might work well for a mystery, along with a few key locations (such as the ballpark and any important landmarks or locations). Then I try to think of different mysteries that might use those locations or attributes that I've identified. For example, in THE COLORADO CURVEBALL I knew that the Rockies' humidor for baseballs was going to be an important aspect of the mystery. What I didn't know until I visited the ballpark and city was that dinosaurs would also play an important role in the mystery, since there are lots of dinosaur-related connections to Colorado and the Rockies team, like the mascot.
Q. Do your sons provide you with ideas or threads to include in your stories? Do your main characters Mike and Kate channel any of your sons' enthusiasm for sports in the dialogue you write?
My two sons, Steven and Scott, have definitely helped along the way! They are great resources for when I get stuck with a plot point or need an idea for a clue or a way to move the mystery forward. Over the years they've suggested some ideas (such as a treasure hunt, in THE WRIGLEY RIDDLE) that have helped me create the mysteries. Other times, they provide some ideas for interesting baseball plays or situations that they find fun.
And while neither Mike nor Kate are based directly on my sons, some aspects of my characters echo them. For example, Scott used to carry a baseball or tennis ball around with him everywhere he went—which is something that my character Mike does as well. I also think about how excited my sons and their friends became when they watched (or went to) Red Sox games, and often write reactions I saw on them into plays or events in the books.
Q. Your audience is young readers who are sponges for information. The Dug-Out Notes in you provide in the back are terrific. The educator in me is always looking for fiction and non-fiction texts that support topics. Have you considered writing non-fiction companion books that would go deeper into the ballpark's history?
Including non-fiction resources in the Dug-Out Notes chapter at the end of each Ballpark Mysteries book was important to me. I love facts and information and history, and I know my sons did also, so when I started the Ballpark Mysteries, I thought it would be fun to include some history and background information about the teams, stadiums, and cities featured in the books.
I would love to write non-fiction companion books for each team, because often there's a lot of potential material that would be fun to read about and share. Perhaps we'll circle back in the future and extend the series with some non-fiction Ballpark Mysteries books!
Q. My bucket list includes seeing a baseball game in every ballpark road trip. Have you visited all the ballparks? Do you have any favorites-besides Fenway Park?
I have not been to all 30 MLB stadiums yet but hope to! I've been to 22 so far and go to a new one with each new book I work on. One of things that I've found as I've researched is that each of the ballparks is interesting and wonderful. What's most fun for me is seeing how the fans engage with the team.
There are definitely a few ballparks that stand out. Kauffman Stadium in Kansas City isn't the newest or slickest park around, but it was wonderfully comfortable and fun. The Colorado Rockies stadium is really beautiful, with a great location in the city and a view of the mountains. The San Francisco Giant's stadium has an incredible view of the bay and really pretty—but I will say that the coldest baseball game I've ever seen was a San Francisco Giants' game in August—the cold air just flows off the water. And seeing a game in Wrigley Field really drives home the history of baseball and its longevity.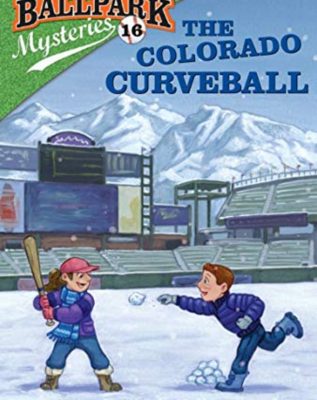 Q. We were thrilled when you visited the National Ballpark Museum! Naturally we wondered if it sparked any new ideas for a mystery! Or could it possibly be the setting of a Ballpark Mystery?
I really enjoyed my visit to the National Ballpark Museum, and hope to come back soon. It's an amazing place filled with important baseball treasures that most people would never have a chance to see. It also brings history and long-gone stadiums to live in ways that reading about them can't.
During my trip, I took many pictures and notes, and they possibly will help me think of future mysteries. I always look over my notes and materials when I'm brainstorming mysteries and some of my best ideas have come from the types of objects and information that you display at the National Ballpark Museum.
And it would be a whole lot of fun to write a story in which my characters Mike and Kate visit the museum and discover a mystery!
Q. With the 2020 baseball season experiences, have you thrown around any ideas about the empty ballparks the teams played in for a new mystery?
Well, I've certainly thought about it! What a strange year 2020 was! I don't think I will end up setting a mystery in an empty MLB stadium, but it would present some fun ideas. For example, I know the acoustics of the games were very different—I heard that sometimes it was so quiet you could hear the coaches talking to the players on base, or other players talking. Something like that would be a great concept for a possible mystery!