Baseball Board Games – How America's pasttime made it's way into board games
For as far back as the origin of professional baseball in America, the game has had a fascinating counterpart in the form of games designed for play on tabletops. Dating all the way back to the first known production of a tabletop simulation baseball game (1869), readers of this article can probably hear one hundred and fifty years of cynics muttering "those who can, do. Those who can't play tabletop"! However true that utterance may be (I may have made it up), the success of literally hundreds of "simulation" board games can't be argued. All the major toy producers of the early twentieth century had their branded versions, while also producing a number version in collaboration with all-star players of the era.
To be clear, I am talking about non-electronic games. I wanted to state that early to give you, the reader, a chance to stop reading now if your interest is the electronic varieties introduced over the last four decades. Though some production of non-electronic games continued through the late 1990's, a seismic shift occurred in consumer interest between the strictly manual variety, and those supported by Windows based software. Yes, I am biased towards the manual version which I will describe here, but I also appreciate the strong following and passion for all versions electronic.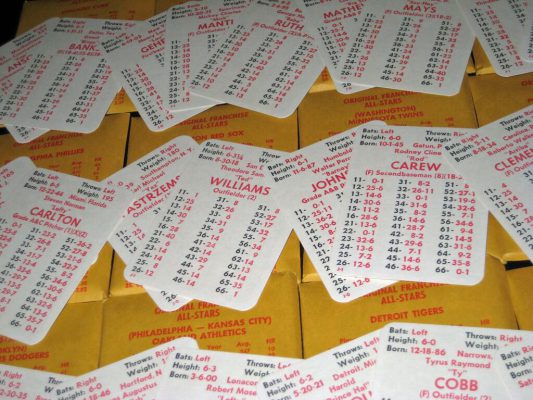 Each of the more than one hundred versions of tabletop baseball games produced have their passionate followings. Lively debates persist on the most "realistic" versions for their era. I will declare here and now that I am of the baby boomer era. By the time I became an active "player", the field of game versions had shrunk dramatically. I began to play at about age eight, and I will not confess as to whether I have stopped. The games I played the most (fairly intensely through college) were All-Star Baseball by Cadaco (originally made by Ethan Allen), Strat-O-Matic, founded by Hal Richman and APBA (pronounced APP-baah, but often called "APBA"). These three simulated games seemed to have the cornered the lion share of the market, at least among those active enthusiasts I encountered in the 1970's and 1980's. It should be noted, that, in their "hay day", each of the three versions I noted held a national convention and tournament annually, and, each published a monthly or quarterly newsletter. All-Star Baseball, Strat-o-matic and APBA will be my focus.
I began to play the All-Star Baseball game in about 1968. I still have that particular game issue, and have bookended it with several issue from the 1940's and 1980's. The various cardboard production issues of the game did not change dramatically from year to year. My favorite was the Wrigley Field backdrop. Everything on the game was manual, so it was only fitting to replicate Wrigley Field in the tabletop version. It was not a tough game to figure out. About sixty-four player cards were issued with each game. The player cards included were supposedly All-Stars from the prior year. I suspect the company's marketing department added a few favorites as they wanted. Nonetheless, it was easy to assemble two solid twenty-four man rosters, or four sixteen man. There was always a pitcher shortage in the mix. In an attempt at full season replay, it was not unusual for your number one starting pitcher to start fifty games (and maybe pitch some relief).
Though many of the games made the claim "be your own General Manager", All-Star baseball was a flat out game of offense. Unlike two of its counterparts I will write about, All-Star Baseball didn't provide the opportunity to counter a great offensive player's card (each player had a circular disc) by making a pitching change. In other words, the Willie Mays card of a given year could hit as well off of Sandy Koufax as it could Dock Ellis. In one attempted replay of a Dodger team, Sandy Koufax won 40 games, and finished the replay season with an ERA over 7.00. Though not a Dodger fan, I better understood the plight of their management, as I was unable to provide a strong third baseman in their line-up until the Ron Cey card was issued in the mid-1970's. All-Star baseball was a lot of fun, whether playing by yourself, or a friend. In total, a nine inning game took about an hour to complete. The post-game compiling of the stats took as long as you wanted. I can still see the perplexed look on my father's face when I told him I would like two of the same game for Christmas in 1971 because I had determined that the spinning dials broke after about 400 hundred games!
Strat-O-Matic most certainly took the simulation game up by a significant notch. In this game you could really begin to replay a prior season. Full team rosters were issued annually using the player's statistical performance of the prior year. There were no dials or discs in this game, this game used dice and reference charts. In Strat-O-Matic you could affect the outcome of a given players at-bat by making a pitching change. This game did not prohibit the ability to play alone, but it did minimize true objectivity e if you were managing for both sides. A complete game of Strat-O-Matic took a little more than an hour to play. (Thirty more minutes for stats and another thirty for drive way re-enactments of the games highlights!)
At least among the three buddies I hung around with and played these table top games, we were all about replays of our favorite teams for a given season. In a replay, you followed the prior year's schedule and team line-ups. The end objective was to have the team and players you managed . outperform their prior year's actual results. We each managed our team throughout the process. Two of us had NL Western division teams and two had AL Western teams. It was efficient, as we really didn't have to worry about the Tigers playing the Indians in a replay format. It was a long and arduous task to complete a season, sometimes taking us twelve months to do so (just in time for the next year's cards). The four of us virtually lived on the same block in a Northern California suburb. We got to know our mailman on a first name basis as we sat curbside on Thursday afternoons waiting for The Sporting News (TSN) to arrive (our source at the time for line-ups and schedules). I often wondered if the marketing department at TSN was ever curious about the high concentration of subscriptions in that one block area. We would sometimes augment the game by overlaying a players Topps baseball card on the scoreboard of the game. I recall one buddy pinch hitting for Dick Green in his Oakland A's line-up because he didn't think Green's facial expression looked confident on his baseball card. This was our short lived attempt at advancing the game.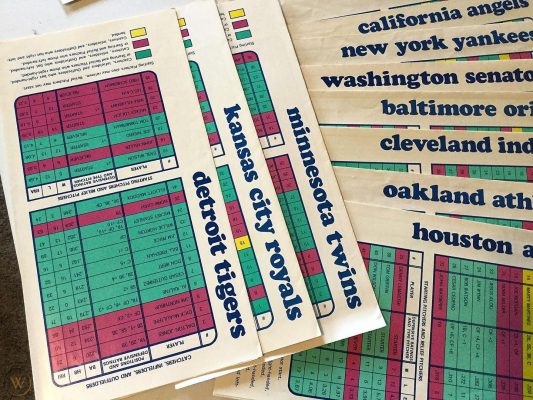 If Strat-O-Matic raised the game among its simulated game peers, APBA raised it a level higher in my view. APBA was also a game of dice, player stat cards and game charts. This game took a while to learn, and the game situation options were endless. Making a pitching change was easy, but to then have to consider the frequency in which that new pitcher could create groundball outs was a new dimension. A left handed pitcher facing a left handed batter really had statistical significance here. In addition to four pre-teens playing the roles of fans, announcers, and irate managers, the APBA game was loud. The repeated sound of dice jingling in a plastic cylinder prior to rolling, made for temple throbbing annoyance three rooms away. My parents, and those of my friends, typically had a two game limit per house. Over time they informally set game start times and curfews on the last roll of the dice.
The new set (for the prior season) of APBA cards typically arrived in late February. It was a red pen marking event on the family calendar, much to the dismay of my parents who did not care for the permanence or font size I had left on the family schedule. The arrival of cards included the twenty-four most frequently used players for each team from the prior year. Reserves could also be purchased. Because each team was represented, near exact full season replays were very doable. The cards were playing card size and filled with coded statistical detail. Each player at bat during a game required a dice role and a look at both the players card and the game reference board to see the outcome. The detailed player cards had every imaginable stat, but included personal detail, too, including nicknames. My all time favorite card was former Giant Al Gallagher. His card read Alan Mitchell Edward Patrick Henry Gallagher, or "Dirty Al", his name was so long that it forced a font size change to his statistical data. With APBA you were not the General Manager, but rather the in dugout "skipper'.
About fifteen years ago I was on a flight to China. Close to three hours into the flig ht I had finished my planned reading and pulled out my baseball encyclopedia (ninth edition). Ten flight hours remained and I had 2800 pages of data to amuse myself with. A man about twenty years my senior sat next to me. He asked me if I had ever played tabletop baseball games. When I answered in the affirmative, it led to a four hour conversation. He talked about how he a nd his son had played APBA baseball, football and basketball for years. We exchanged cards, but I did not think we would connect again. About a month later, three large boxes arrived at my work office. Enclosed were full sets of well used APBA cards and reference boards for every season from 1958-1974. Roughly the same period for APBA football cards, and APBA basketball cards that even included the ABA when it was a stand-alone league. To this day! often think about the fun he a nd his son must have had with those cards and game boards…"those who can play tabletop, those who can't play the actual game".